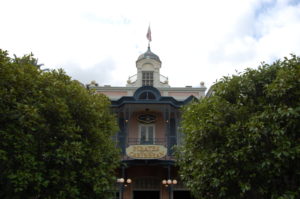 Okay, since I constantly seem to get sidetracked by this issue any time I try to write anything about theme parks, I might as well talk about it now.
First some quick definitions. David Younger in his fantastic book aptly titled "Theme Park Design" (add link) outlines a few different design styles that have been applied to theme parks in their relatively short history. Here they are along with their (paraphrased) definitions.
Traditional: the classic form of design that originated with Disneyland that seeks to immerse you in environments. Characteristics include almagations of different kinds of spatial entertainment (not just rides), a trend towards experiential vs explicit story, loose theming. Pirates of the Caribbean or The Haunted Mansion.
Presentational: a sharp departure from traditionalism, influenced by the 1964 World's Fair and perhaps best used in the design of Epcot. No attempt at immersion in a "world" is attempted and the artificiality of the experience is acknowledged. Sets and buildings are often abstract or metaphorical. The medium itself drives the design rather than any attempt at realism or the premise of being anywhere but the park.
Postmodern: a reaction to the traditional style, as often historically used by Universal Studios, that is non-immersive with present-day settings. IP is often incorporated as well as celebrities, behind the scenes elements, and general attempts at hipness or coolness. Attractions might be similar to their traditional counterparts in some ways, but without the attempt at immersiveness – sight lines don't matter, show equipment might be visible, attractions might be grouped paired together based on more "meta" characteristics than actual theme, and acknowledge each other or wink at the audience.
Themed Amusement: parks and attractions that are primarily just amusement with the barest level of theming, relying heavily on metaphors and association to create the experience. Demonstrated in parks such as the Six Flags and Cedar Fair parks. An "aesthetic preference for the iron ride"
New Traditional: the current trend, and style expertly demonstrated by (and generally only by) Disney and Universal. Essentially the maturation of traditionalism, immersion taken to a much more detailed standard. A key difference is the focus on explicit story vs. Experiential story. Rides and even lands have specific plots and backstories, and everything is justified or explained, and least in the mind of the designer if not literally. IP and specifically themed lands also see much wider use and there is a strong association with authenticity. The Wizarding World of Harry Potter, Carsland, Disneyland Paris, DisneySea, Animal Kingdom. Essentially the deepest level of immersion possible.
The main focus of this article is comparing Traditionalism to New Traditionalism and how I think the current trends might be focusing too much and too intently on the latter.
I love new traditional attractions and parks as much as anyone and I think the design style is perfect for many types of attractions. I would not want a presentational Harry Potter land or Indiana Jones ride, or anything other than the deepest level of immersion with any sort of "adventure" type experience. However I think there has been a tendency to focus on this style as the only "correct" style of design.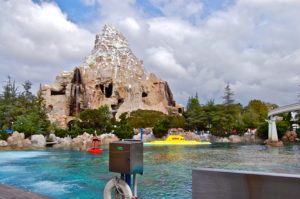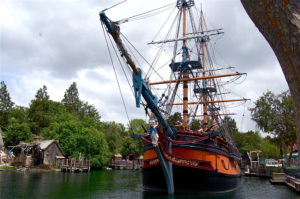 There's a lot to be said for the freedom that traditionalism can bring to an attraction. Amalgamation lands are fantastic because they're both more timeless and create their own sense of place. And loose adherence to theme and a certain tolerance of conceits allow for experiences you couldn't have otherwise. It may be that the time periods of Pirates of the Caribbean don't fully mesh with the rest of the land of New Orleans square – there's no story reason to explain the time travel, or why there are boats inside a building, or why it suddenly becomes night time and you know what? It doesn't matter. In my view it adds to the magic, it enables you to create environments purely for their aesthetic and emotional appeal and not worry so much about squeezing a justification in there. Sometimes a carousel in fantasyland is just a carousel in fantasyland – it doesn't need to be a jousting training device.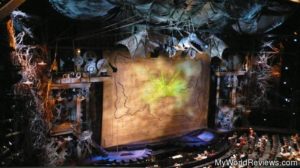 W I think the desire to be able to justify everything with story is noble, but ultimately hamstringing. The theatre world has been doing things like this for a long time, in fact leaning towards presentational in its set design often, and the results are often more breathtaking than anything that could be created with a strict adherence to story and the thoughts behind new traditionalism. (The set of wicked comes to mind).
Similarly when it comes to story, I love the explicit story of rides like Indiana Jones, but I miss terribly the experiential stories of rides like Pirates and the Haunted mansion. (I'm actually very excited to see if Navi river journey will mark a return to that kind of storytelling). While what you can achieve with split second time and technical sophistication is mind-bending, there's something to be said for having a ride that isn't anything more than just a vehicle taking you through environments that can wash over you. There is an under appreciation for the tableau in modern theme-park design: everything leans towards being a thrill ride, being super high energy, throwing a dozen things in your face every second. I think a step back to environment or experience based attractions as simple as a mine train through a natural wonderland, or tour through the many rooms of a haunted house, is just as warranted.
I'm sure this isn't the last you'll see me write about this topic.
Note: For anyone interested in Younger's fantastic book you can purchase it here.