AN IMMERSIVE BRAND EXPERIENCE
This was a 10 week collaborative project where we, a team of 16 students, worked with Trane Technologies to develop a concept for an immersive on-brand experience for investors, commercial customers, and current or potential employees. They wanted an experience that would emphasize Trane Technologies' commitment to sustainability, highlighted their unique products and values, made HVAC accessible for a non-technical audience, and created an emotional connection. We ultimately developed a 14 minute, interactive, 270 degree experience that the animatics below illustrate. Please note as this project focused solely on concept development, the music in these animatics is temp score sourced from other film and themed entertainment works along with a demo graciously provided by George Streicher in Scene A.
I served as the Project Manager, Creative Director, Lead Writer, and Animatic Editor – along with contributing to early visual development and technology implementation. The animatics below are included as a demonstration of those skills. For my own visual skills please visit this page.
HOW TO WATCH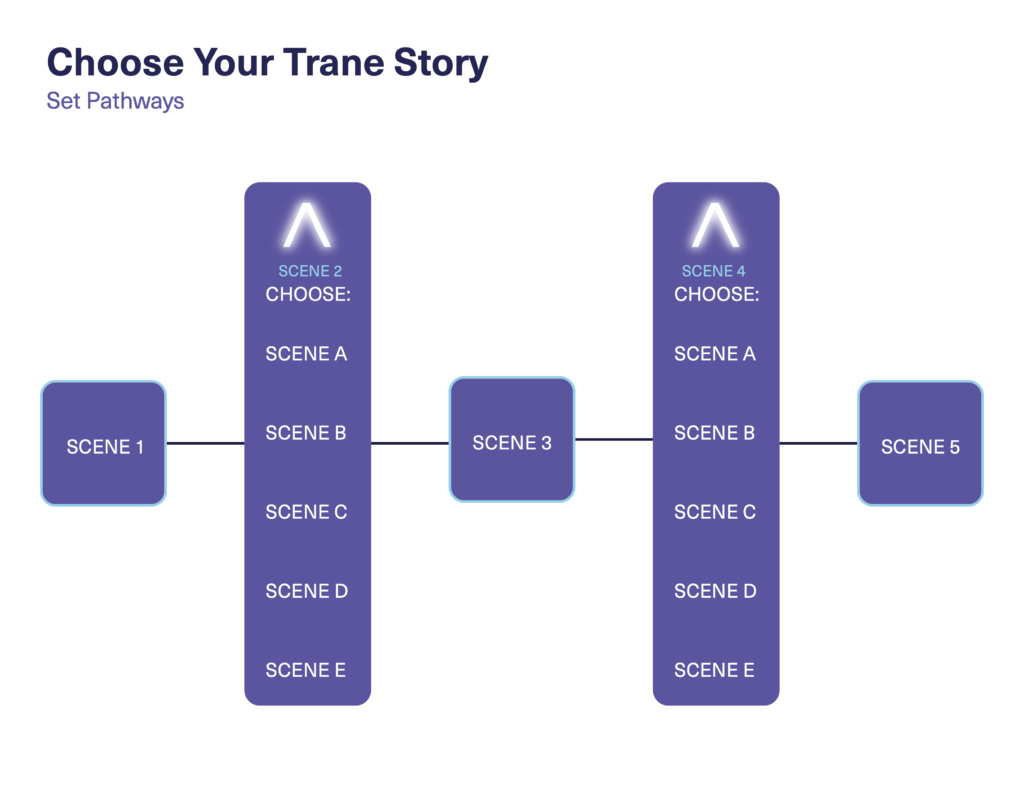 The experience is designed so that every guest experiences the same beginning, middle, and end. They all walk away with the same core values and messages no matter what they see. How they get there though, is completely up to them. Scenes 2 and 4 are drawn from a pool of 5 scenes, which can be updated and changed in the future. To experience the show as intended, watch scene 1, then pick a letter, scene 3, then pick another letter, and finish with scene 5.
SCENE 1: LOBBY AND INTRODUCTION
SCENE A: COMFORT & WELLNESS
SCENE B: RELENTLESS TESTING
SCENE C: EXTREME ENGINEERING
SCENE D: DATA DIVE
SCENE E: GLOBAL INGENUITY
SCENE 3: TRANE ROOTS
SCENE 5: SUSTAINABILITY & FINALE
THE SCRIPT
The initial script was written in a roughly cumulative 2 week period. 1 week as concept and 1 week to integrate feedback. As the lead writer I conceived of the overall story, framing, and interactive structure, oversaw it throughout development, wrote the early drafts of all scenes, wrote the final drafts of Scenes 3, A, B, C, and D, and was responsible for compiling the final draft.
Writing_ChooseYourTraneStory_FINAL_052720

VOICE CAST
| | |
| --- | --- |
| Hannah Chiclana | Irma Stat |
| Collin Cruikshank | Joe the Server Dude |
| Michael K. Lim | Computer |
| Jennefer Morris | Greeter/Mother |
| Craig Anton | Reuben Trane / Doctor |
| David Storck | Testing Foreman |
| Caleb Kitchings | Father |
| Bob Shreve | Investor |