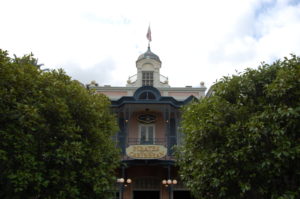 Okay, since I constantly seem to get sidetracked by this issue any time I try to write anything about theme parks, I might as well talk about it now.
First some quick definitions. David Younger in his fantastic book aptly titled "Theme Park Design" (add link) outlines a few different design styles that have been applied to theme parks in their relatively short history. Here they are along with their (paraphrased) definitions.
Traditional: the classic form of design that originated with Disneyland that seeks to immerse you in environments. Characteristics include almagations of different kinds of spatial entertainment (not just rides), a trend towards experiential vs explicit story, loose theming. Pirates of the Caribbean or The Haunted Mansion.